Symbol Mark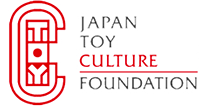 The new name of our organization, The Japan Toy Culture Foundation, as well as its newly created symbol mark (logo), are intended to be indicative of the significance of our activities as we move into the next century.
The new logo for The Japan Toy Culture Foundation was created based on the attributes associated with the three key concepts at the heart of our organization's activities: Toys, Culture, and Core (i.e., centrality).
It not only serves to show the ongoing significance represented by the role and value of toy culture in helping people make the transition from childhood to adulthood, but is also imbued with our determination to undertake a wide variety of activities in pursuit of our goal of "Connecting the world and spanning the generations with toys." The new logo also expresses our vision of being an organization serving as a facilitator of toy culture exchange for concerned and interested people, and in this sense it portrays the image of a circle or forum.